Last year, there was developer week.
To the average netizen, this event was nothing more than a series of obscure YouTube videos indistinguishable from ASMR (for those not into it).  
To anyone who has been part of the Caribbean Developers Facebook Group or attended any of our meetups, it was a rare chance to get a glimpse at how some of us work, our interests, thoughts and opinions.

The plan was to keep the momentum going and have a another Caribbean Developer Week in June of this year. It did not happen. :( What makes community effort in the local software scene difficult is well, life.
We all tend to be at different stages of it and just when we feel like we have enough time to be more involved in the community, we get that tap on the shoulder from our other comittments.
Fear not! Developer Week did not happen this year but we have something better. A whole month! That's right, it's Caribbean Developer Month starting on August 4th 2019!

You can thank Marcus Sanatan for this. Roughly a month ago we got into a conversation about hosting a game jam to inject some life into the regional game development community. That conversation lead to me reaching out to Nicholas Mendez of GDG Port of Spain and Shawn Melville of Impsum Technologies and here we are.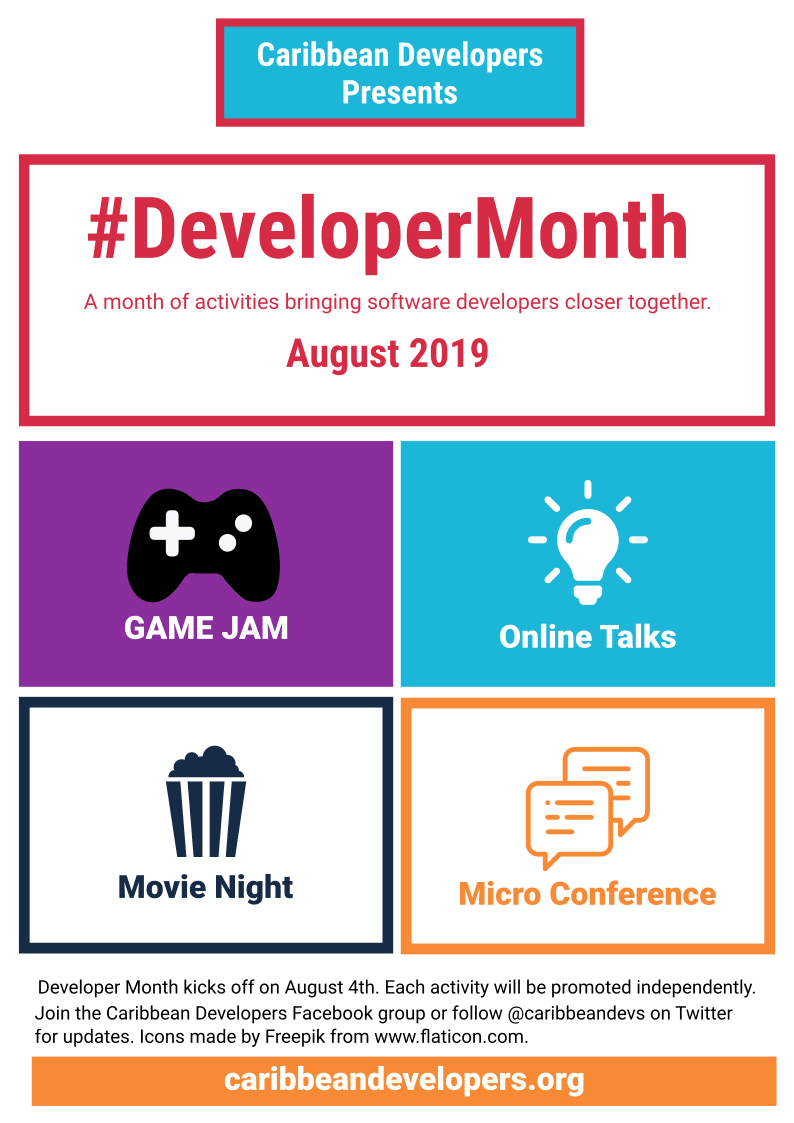 The theme this year is "When Life Happens".
Let's get those conversations about work-life balance and not finishing side projects going. Not to mention, there is a lot to be said about how technology is/has affected our daily lives.

So how is this going to work?

The first two weeks we are doing the Game Jam. It's essentially a hackathon for developers. More info here (it starts on August 1st so get in quickly).

During the 3rd week, I'll be hosting online sessions much like we did last year. Look out for the call for speakers.

Between the 3rd and 4th week, we are going to have a movie night in Trinidad, more info on that soon. Finally by the 4th week we are going to have a small micro conference . Planning is still underway but if you would like to speak, please reach out ASAP.

Caribbean Developer Month is a volunteer effort and is organized to celebrate you, the developers that will ultimately shape the technology industry in the Caribbean whether you like it or not.

Join the Facebook Group, follow @CaribbeanDevs to stay current with what's happening.